Non-compliant plumbing more serious than anticipated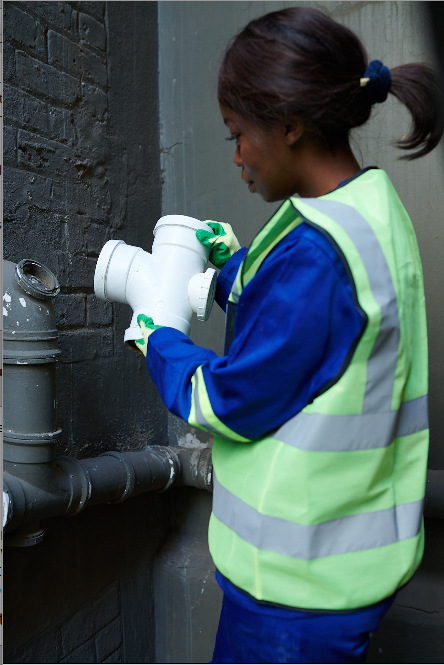 ---
---
23-06-2022
Read :
58
times
The Content Engine
Source
The findings of the Institute of Plumbing South Africa's (IOPSA) latest research into the level of plumbing compliance across the country are cause for concern. This is especially so in a water-stressed country that is also grappling with a severe water, sanitation and energy crisis. Non-compliant plumbing installations exacerbate the situation, while also posing a serious health and safety risk to the general public; negatively impacting the environment; and damaging public and private property.
Brendan Reynolds, Executive Director of IOPSA, says that these findings demonstrate a serious disregard for the rule of law and a very limited understanding of the importance of the plumbing profession. "There is scant enforcement of the municipal by-laws, a situation that has allowed many unqualified 'plumbers' to operate without fear of any repercussions. This is despite the many risks associated with sub-standard plumbing workmanship. From anecdotal evidence, we expected to find a significant number of non-compliant plumbing installations throughout the country. However, we certainly did not anticipate the situation to be as dire. IOPSA had a good idea about the extent of non-compliant water heating system installations as our inspectors examine them on a regular basis and their research only confirmed our concerns. Yet, we were not prepared for the extent of other non-compliant types of plumbing installations. Conservatively, we expected that between 30% and 40% of these plumbing installations would be non-compliant. We were, therefore, alarmed to learn that between 70% and 80% of these installations do not comply with the law. To be clear, most qualified plumbers are trustworthy and abide by the regulations and standards. The challenge is really with unqualified 'plumbers' who haven't been properly trained and often unwittingly cause serious problems." Reynolds says.
The research was undertaken by 42 experienced IOPSA plumbing inspectors located throughout the country during April and May 2022. A total of 725 properties in the formal housing sector were inspected in eight provinces. IOPSA's inspectors requested permission from property owners to conduct a visual inspection of other aspects of their plumbing. Their focus was only on significant and/or critical safety failures. Homeowners were also alerted to these problems so that they could take the necessary action to correct them. The inspectors only reported on what they could see externally and, to fully ascertain the extent of non-compliance, a more in-depth examination would be required. However, the information garnered by the team of IOPSA inspectors was sufficient to provide a statistically significant indication of the level of plumbing installation compliance in the country.
Worryingly, many property owners did not allow IOPSA's personnel to inspect other plumbing installations on their properties. This was especially so in suburbs located in KwaZulu-Natal, Limpopo, Mpumalanga, Free State, Northern Cape and Eastern Cape, while no reporting was received from IOPSA inspectors in the North West. As a result, the findings of IOPSA's research mainly focus on Gauteng and the Western Cape. They are also heavily weighted to water heating systems, such as geysers, solar-water heaters and heat pumps.
Of the 725 water heating installations that were inspected nationwide, 67% were found to be non-compliant.
These installations are not energy efficient, placing additional pressure on an already-strained electricity grid and increasing the carbon footprint of properties. They also present many health and safety risks. These include scalding and electrocution, while non-compliant water heating systems also provide a breeding ground for harmful bacteria and pathogens. Legionnaire's Disease and Pontiac Fever, for example, are caused by the legionella bacteria which grows and multiplies in building water systems. Water containing Legionella can spread in droplets that are small enough for people to inhale. In extenuating circumstances, an incorrectly installed water heating system can also explode placing the lives of occupants of a building at risk. This is not to mention the significant damage that incorrectly installed water heating systems can cause to property.
IOPSA's auditors inspected 394 water supply installations, including cold water piping to the property and fixtures, throughout the country. Of these installations, 57,6% were found to be non-compliant.
It is imperative that these systems are installed correctly to avoid contaminating drinking water and eliminate leaks. Repairing leaks is always the first step taken by responsible property owners towards reducing their water footprint. These interventions, combined with the use of smart water-efficient fixtures and other measures, helped Cape Town to avert a crisis when it was in the throes of the worst drought in its history. The Eastern Cape is now facing its "Day Zero" when taps will run completely dry. This serves as a stark reminder about the need to use our scarce water resources more efficiently and this starts with ensuring that supply systems have been installed correctly.
Meanwhile, 65,5% of the 264 wastewater installations from, among others, basins, sinks, baths and showers, that were inspected did not comply with legislation.
These sub-standard installations spread dangerous waterborne disease and can contaminate scarce freshwater and groundwater resources. Certainly, it is a concern that compliance is so low as many areas are still struggling with a severe drought.
Many areas, where dry conditions have persisted for the past seven years, are very reliant on groundwater resources as the only alternative supply. These sources of water, therefore, need to be safeguarded against contamination.
IOPSA inspectors also examined drainage systems, such as sewerage from toilets, gulleys and manholes, on properties. Of the 248 installations that were inspected, 74,2% were found to be non-compliant. These faulty installations can also contaminate freshwater sources and spread waterborne disease. Moreover, they can damage municipal infrastructure, placing further pressure on already-strained local government service delivery systems. More than a quarter of South Africa's municipalities are on the brink of collapse and, therefore, do not have the financial means to develop new service delivery infrastructure.
A total of 159 rainwater systems were inspected by IOPSA. They included, among others, gutters, sub-soil drainage and stormwater drains on properties. 48,4% were found to be non-compliant. These systems can also damage municipal infrastructure; contaminate freshwater sources; and spread waterborne diseases. Moreover, they contribute to the severe flooding that many parts of the country have experienced this year.
A total of 727 other plumbing systems, such as grease traps and those that manage swimming pool waste, were also inspected by IOPSA's auditors, and 17,6% were found to be non-compliant.
While IOPSA's inspectors only focused on the installations, previous research undertaken by, among other organisations, the Water Research Commission have revealed that up to 60% of all plumbing materials used in the country are non-compliant. According to Reynolds, "we have this strange situation in South Africa where it is legal to sell certain products but illegal to install them." "This, combined with a dire shortage of qualified plumbers in the country, has led to a significant increase in sub-standard plumbing workmanship in South Africa," he says. Research undertaken by the Deutsche Gesellschaft für Internationale Zusammenarbeit and Trade & Industrial Policy Strategies in 2019 found that only 20 000 individuals out of the 126 000 who were working as plumbers were qualified professionals. A qualified plumber has completed three years of structured and formal training. By the time that they have completed their theoretical and practical instruction, they also have a more holistic view of the industry. This includes the importance of Safety, Health, Environment and Quality.
The findings show that the authorities also need to help regulate this industry by enforcing their municipal services by-laws. An investigation undertaken by IOPSA in 2021 found that only 33% of plumbers have a copy of their municipal water by-laws. Only 80 of the 256 municipalities had water service by-laws publicly available and a mere 15% of plumbers said that local government held them accountable for their workmanship.
"Plumbing is a critical component of water and sanitation. While much of the focus is on developing 'hard' infrastructure, such as dams and desalination plants, water still needs to be conveyed from there into homes and businesses. Wastewater treatment plants and bulk services are meaningless if the sewage never reaches them. These are important roles that are fulfilled by qualified plumbers. It is painfully clear that something needs to be done urgently to arrest the situation. I doubt that stretched municipalities can accomplish the necessary changes on their own. The private sector has already devised a workable solution in the form of a Certificate of Compliance from the Plumbing Industry Registration Board, the professional body for plumbers. Significant positive impacts could be made in a very short time and with very little cost if we focus on safeguarding quality plumbing workmanship. Given the water and sanitation, as well as energy challenges that the country faces, there is no more time to deliberate. We need immediate and decisive action," Reynolds concludes.
For more information contact:
David Poggiolini
david@thecontentengine.co.za
Debbie Poggiolini
debbie@thecontentengine.co.za
Sign up for Free Daily Building and Construction News
Recent News
Here are recent news articles from the Building and Construction Industry.
Have you signed up for your free copy yet?