Madiba's former home transformed into Boutique Hotel, Sanctuary Mandela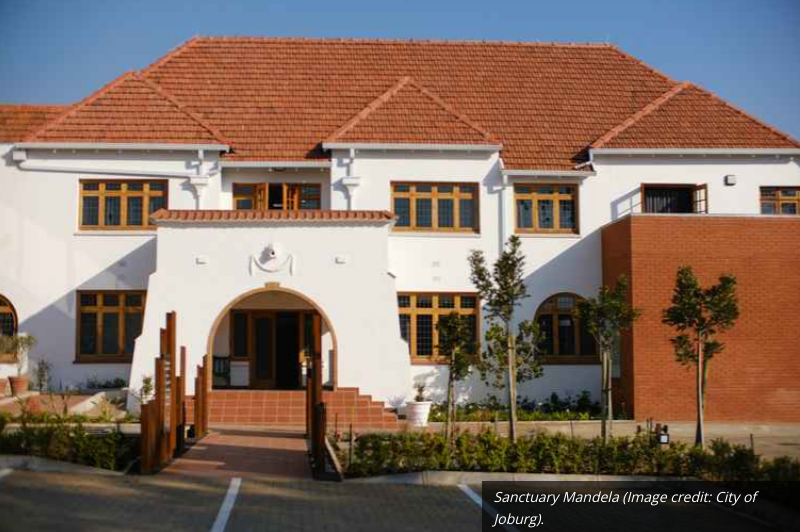 ---
---
22-10-2021
Read :
187
times
Property Wheel
Source
Nelson Mandela's former home on 13th Avenue in Houghton, Johannesburg, has been transformed into a boutique hotel named Sanctuary Mandela.
Sanctuary Mandela was officially opened in September 2021 and the transformed and refurbished boutique hotel boasts 9 bedrooms, including the presidential suite, which was Mandela's old bedroom, 2 meeting rooms, a restaurant and bar (which are open to the public), a swimming pool, and a garden.
The hotel offers guests the opportunity to experience the hospitable nature of Mandela who stayed on the premises from 1992 to 1998. He hosted esteemed guests such as British supermodel, Naomi Campbell, fellow Rivonia Trialist, Ahmed Kathrada, and human rights lawyer, George Bizos.
After Mandela and Graca Machel got married, they moved to the Houghton House on 12th Avenue with the Nelson Mandela Foundation occupying the space. After the foundation outgrew the premises and relocated, the space was vacant.
The hotel's operations manager, Sally-Anne Grinter, says that the Nelson Mandela Foundation, which owns the building, wanted the property to be self-sustainable instead of just standing vacant. They got investors involved and converted the property into the boutique hotel with construction starting in 2018. The development is a partnership between the Nelson Mandela Foundation and the Motsamayi Tourism Group.
"We are trying to keep his legacy alive in the space and in everything we do here" commented Grinter.
Some of the boutique hotel's finer details include replicas of letters Mandela wrote during his lifetime. The menu is in the form of a letter with a stamp to illustrate how Mandela loved writing and the dining experience boasts some of his favourite meals. The green chair at the entrance is the original chair he sat on while reading his daily newspaper under a tree.
"It was built to be a space of reflection and thought-provoking experiences. We would like for guests to leave knowing more about Madiba and who he was as a person. They should leave here and think 'wow, that can assist to make me a better person'" said Grinter.
Kervin Richtenberg, the food and beverage manager, says Sanctuary Mandela is more than just a hotel and it is still viewed as a home. "This is the home where legacy was made in our country and being proudly South African. I think that's the most interesting part".
Some of Madiba's favourite dishes, which include oxtail, are on the menu as a starter. While the traditional dishes include Nguni beef and Cape Malay-style fish, other dishes tell a story, like the Ethiopian Kitfo dish that Madiba had when visiting Ethiopia.
"The most important part of my job is being part of the building of a legacy. It is difficult today to find joy and Madiba inspired that", said Richtenburg.
The jewel of Sanctuary Mandela is Xoliswa Ndoyiya, who prepared meals for Mandela and his family for over 22 years. Now, she is part of the boutique hotel's team. Ndoyiya and Madiba met in 1992.
Sanctuary Mandela has hosted the late executive mayor of Johannesburg Jolidee Matongo and Economic Freedom Front leader Julius Malema, among others.
Sanctuary Mandela (Image credit: City of Joburg).
Sign up for Free Daily Building and Construction News
Recent News
Here are recent news articles from the Building and Construction Industry.
Have you signed up for your free copy yet?