MDA ATTORNEYS LOCKDOWN WEBINAR SERIES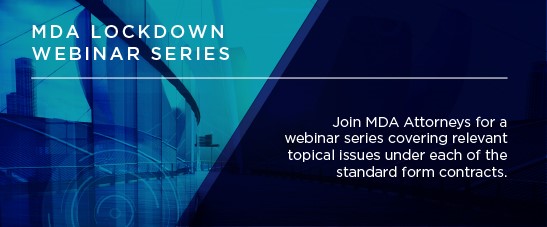 ---
---
02/04/2020
Read :
16
times
MDA Law
Source
Join MDA Attorneys consultant, Ian Massey, for a webinar series covering relevant topical issues under each of the standard form contracts.

•Tuesday 7th April (10:00am – 11:30am)
The management of risk under the GCC 2015 3rd Edition. This topic is of particular relevance since it will deal with, amongst other key management priorities, both Business Forum work interruptions and the current Lockdown.

•Thursday 9th April (10:00am – 11:30am)
An introduction to the NEC3 contracting philosophy. For those of you that have not yet been exposed to the use of the NEC, this will give you a good grounding and understanding of the key differences in this contract form compared to conventional forms generally in use.

•Tuesday 14th April (10:00am – 11:30am)
Communication and notice requirements of the FIDIC 1999 1st Edition Red Book. Two of the four key behaviours for ensuring the successful outcome of your contracts will be dealt with in this session.

•Thursday 16th April (10:00am – 11:30am)
Topical issues and how they are addressed in the JBCC PBA Edition 6.2.


To register for the free webinar series please email twidlake@mdalaw.co.za, and indicate the relevant session you would like to join. Following registration delegates will be provided with a Zoom link and instructions to access the webinar. On line delegates will be given the opportunity to participate in a question and answer session.



Tiffany Widlake – Marketing Manager
C: +27 (82) 972 0100


twidlake@mdalaw.co.za


www.mdalaw.co.za

Sign up for Free Daily Building and Construction News
Recent News
Here are recent news articles from the Building and Construction Industry.
Have you signed up for your free copy yet?