Construction of a new Cruise Terminal to begin soon in Durban, South Africa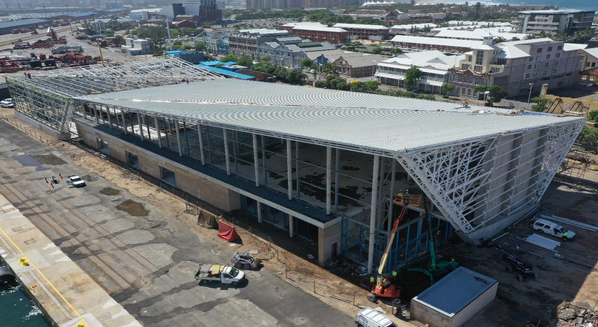 ---
---
26-08-2019
Read :
443
times
Construction Review Online
Source
Construction of a new cruise terminal dubbed Durban Cruise Terminal is set to commence at Durban port in South Africa; South Africa's busiest cruise port, in November this year, and is set for completion in 2021.

The US$ 2.8m port project will be developed by a joint venture that is led by a Swiss-based European company, Mediterranean Shipping Company (MSC).

According to the Managing Director for MSC Cruises South Africa, Mr. Ross Volk this development is part of the significant investments by the Italian, family-owned company into the country's booming cruise tourism industry.

Signing of the developments agreement The agreement for the development of the cruise ship terminal, which is a part of the KwaZulu Cruise Terminal Consortium (KTC), was signed last year by MSC together with Transnet National Port Authority (TNPA).

TNPA offered KCT a 25-year concession to finance, construct, operate and maintain the port. The former said that KCT is at the moment finalizing the detailed design of the Durban Cruise Terminal building.

Mr. Volk also mentioned that the cruise terminal will be a multi-user facility. This means that with MSC as the main user of the terminal, it will also be used by other cruise line operators to Durban.

Benefits to the economy and South Africa nationals With the Cruise Terminal being capable of handling at least 4,000 passengers at a go, Durban city will be an even more desirable destination for cruise ships from all over the world.

Ross Volk says that the terminal will significantly boost the number of tourists visiting the country in addition to creating thousands of jobs to locals and leading to supplier development.

Nevertheless, the terminal shall feature MSC Shosholoza Ocean Academy that is meant to equip 5,000 youths with skills necessary to work on cruise ships over the next five years so that they can be in a position to work in the industry.
Sign up for Free Daily Building and Construction News
Recent News
Here are recent news articles from the Building and Construction Industry.
Have you signed up for your free copy yet?