Construction of Kenville Road bridge recommences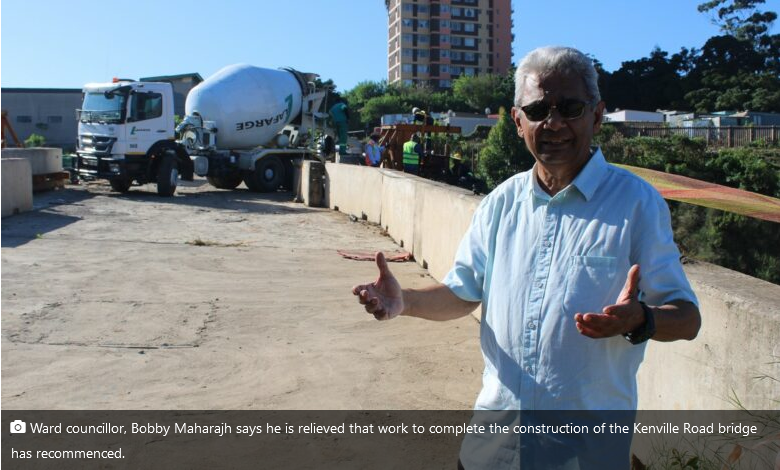 ---
---
11-05-2022
Read :
128
times
Northglen News
Source
Latitude: -29.8018035 Longitude: 31.0086786
THERE is some light at the end of the tunnel for Ward 34 residents, as construction work has resumed to complete the Kenville Road bridge.
The construction of the bridge and road realignment is part of the GO!Durban project, the City's Integrated Rapid Public Transport Network (IRPTN) that aims to provide a safe and seamless transport experience for eThekwini residents.
However, in the last two years, the project has stalled leaving residents frustrated and angry.
That has led to several roads in and around Sea Cow Lake and Kenville experiencing high traffic volumes, and the deterioration of road surfaces.
On Friday ward councillor, Bobby Maharajh, said work to complete the bridge and realign a section of Inanda Road/Sea Cow Lake Road would take close to 13 months.
"A few months ago there was a meeting with officials from GO!Durban and members of the community regarding the construction project. The official word is that the bridge and subsequent realignment will take around 13 months to complete. I understand and symphatise with residents over this project as it has been a nightmare for many of them. Having said that, I'm in direct contact with the developers and things are on track to complete the project, which is sorely needed.
"Residents, schools and other stakeholders have been vocal about the need for this bridge which would alleviate many of the traffic congestion problems in the area. I'm told that the bridge will have traffic lights reconnected at the Kenville Road, Sea Cow Lake Road intersection. I'm relieved that work has recommenced, and we have a timeline for when this part of the project is set to be complete," Maharajh said.
Sign up for Free Daily Building and Construction News
Recent News
Here are recent news articles from the Building and Construction Industry.
Have you signed up for your free copy yet?