Cape Town's Portside building the largest and tallest to receive EPC in SA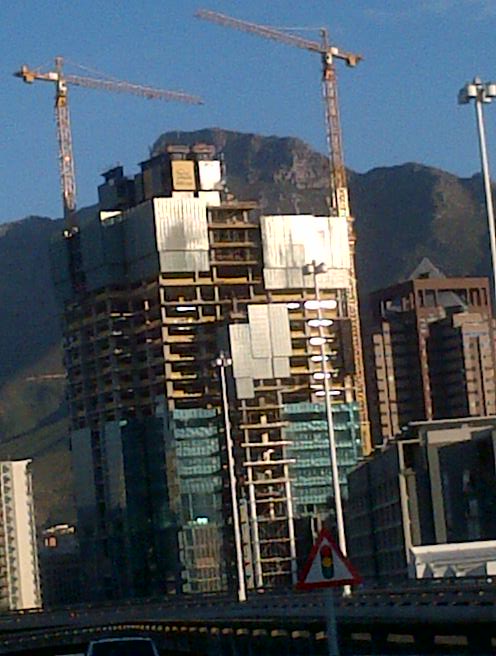 ---
---
06-12-2021
Read :
237
times
Property Wheel
Source
The iconic Portside building in Cape Town, with its eye-catching Atlantic-green glass façade, has set an example for all skyscrapers in South Africa by becoming the first of its type to have received an Energy Performance Certificate (EPC).
"It is an honour to have ensured that this iconic building is leading the charge in both the Mother City and South Africa on compliance with energy efficiency regulations", commented Dr Frank Duvenhage from Bluedust EPC, consultants on the project.
The building was originally awarded a 5-Star Green Star SA – Office v1 Design Rating in 2013, followed by a 5-Star Green Star SA Office v1 As-Built rating in 2015 by the Green Building Council of South Africa (GBCSA) and it received its EPC shortly after regulations were implemented with more than a year and a half before the 2022 deadline for compliance for mandatory buildings.
The new regulations on EPCs for buildings in South Africa were introduced by the Minister of the Department of Mineral Resources and Energy in December 2020, forming part of the Energy Act. These regulations aim to be the first step in creating energy efficiency awareness and corporate responsibility in the commercial property sector.
Currently, only privately-owned buildings (larger than 2 000m2) and government-owned buildings (larger than 1 000m2), older than two years and not having undergone any major renovations within the past two years of operations, with an 'Office', 'Place of Instruction', Entertainment and Public Assembly', or 'Theatrical and Indoor Sport' occupancy class, require an EPC certification before December 2022.
The process requires the property owner to have their building assessed by an accredited inspection body which will determine the energy use intensity (EUI) of the building in kWh per square metre per year. This is then compared to benchmarks determined in the SANS 10400-XA standard, which has predetermined values for the different types of buildings in different climatic or energy zones in South Africa. Depending on how much below (or above) the benchmark of a building is, it receives a rating from A to G, with A being the lowest EUI and D the benchmark value.
The Portside building received a D rating, complying with the national building regulations on energy performance for an office building in the temperate-coastal climate zone, making it both the largest building, at more than 52 000 square metres, and the tallest building at around 140 metres, to be certified in compliance with the regulations. It is also the first building with more than 20 floors to be certified.
Due to its height, the building requires a lot of energy for water pumping, for both HVAC purposes but also for sanitation, since each floor has a small kitchen area and bathrooms.
Dr Duvenhage noted that the EPC process for the Portside building was complex due to the number of floors, the presence of retail tenants, and the amount of parking that needed to be excluded. However, Bluedust EPC was able to ensure a speedy turnaround time for the client. The team from Energy Management and Validation Services (EMVS), along with cooperation from the Portside facilities management, helped ensure that the entire process was effective.
"While the Green Star rating and efficient use of energy through LED lighting and solar heating on the rooftop makes the Portside building more efficient, the need for energy to overcome gravity in supplying water to the building cannot be underestimated. Considering this, and with more skyscrapers receiving EPCs, it will be interesting to see if the regulations and benchmarks are updated to account for this higher EUI", concluded Dr Duvenhage.
Sign up for Free Daily Building and Construction News
Recent News
Here are recent news articles from the Building and Construction Industry.
Have you signed up for your free copy yet?