A look at Cape Town's new R900,000 micro-apartments – which are covered in plants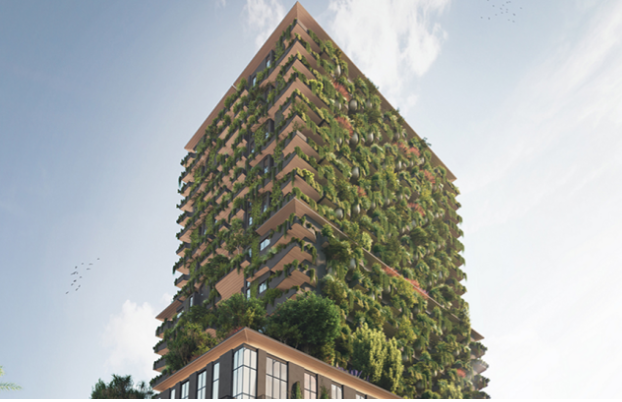 ---
---
20-09-2021
Read :
417
times
Business Tech
Source
Dogon Properties has launched its new micro-apartments in Cape Town, with the 24-storey building set to be the first 'biophilic' development of its kind in South Africa.
'The Fynbos' will feature 689 apartments, including a rooftop sunset terrace with a lap pool and co-working space, a rooftop fitness centre, a botanical bar and a concierge service.
The outside of the building is planted with 30 species of trees and 20 species of shrubs, while integrated PV solar panels utilise the maximum coverage allowed by the building's footprint and generate double the electricity quota needed to power the common areas. These energy savings are passed back to the owners through reduced levies, Dogon Properties said.
"The pioneering system at The Fynbos was fastidiously designed and implemented by a specialist team of technical botanists headed up by Donovan Gillman who has over 45 years growing plants in difficult locations across Africa. Together they had the right contacts, knowledge, experience and global awareness to bring the concept to life," the group said.
"100% indigenous to the Cape, each plant is considered for aesthetic and resilience. The look is green, leafy and geometric. The schematic for how the plants are placed across the structure follows the working in-situ example of Table Mountain with trees at the base and lower profile shrubs and cascading plants towards the top."
Dogon said exterior plantings have a cooling effect and provide shade and screening. Water efficiency is improved through low-flow fittings and a central heated water system allows for economies of scale and avoids individual geysers, while a sophisticated rainwater harvesting system is integrated into the balcony design.
The Fynbos, which is located on upper Bree street, will include studio apartments sized between 24m2 – 40m2 with prices starting at R890,400.
Prices rise to R1.36 million for a one-bedroom apartment and R4.92 million for two-bedroom apartments.
Other key features of the apartments include:
689 apartments over 24 floors
Luxury studio, 1- and 2-bedroom apartments from 24m2 – 85m2
Solid hardwood floors throughout
Rooftop sunset terrace with lap pool and co-working space
Integrated SMEG kitchens
Integrated planters provide a garden experience for each unit
Double glazed windows throughout, reducing noise and energy consumption
Tastefully integrated PV panels that power all common areas
Ground floor plant-based restaurant, tea room and botanical bar
Rooftop fitness centre
Organic vegetable market by Justin Bonello
Specialist herbalist
On-site basement parking
The superior location of upper Bree Street
Biometric access control and CCTV surveillance
24-hour concierge.
Sign up for Free Daily Building and Construction News
Recent News
Here are recent news articles from the Building and Construction Industry.
Have you signed up for your free copy yet?